List of Scholarships and Fellowships
Themes/Topics: Higher Education
Geography: California, National
Audience: Educator, Undocumented Youth
We're excited to curate this list of scholarships and fellowships that don't require proof of U.S. citizenship for you! The list has general application eligibility requirements, including education level, region/state, and immigration status (e.g. DACA, TPS, in-state tuition eligibility). Only opportunities with due dates within the next 120 days are shown in the list. Please refer to the webpage linked under "Click to Apply" for the comprehensive eligibility and application requirements.
Check out how to filter and customize the list.
Click here to open the list in a new tab.
How to Customize the List:
Our list is comprehensive, which means that not all opportunities may be relevant to you. You can refine the list to better meet your unique background by filtering the list. Follow the steps below to get started:
1. If you are using a mobile browser, turn on the desktop site view.
2. In the list toolbar, click on "Filter" then "Add Condition".
3. Select a field, conditions (or "operator"), and value in which you are limiting the field.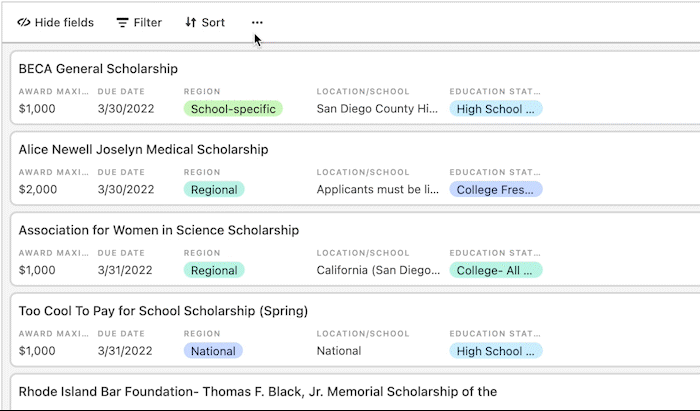 4. Stack multiple filters to further refine your search.
5. You can also use "Hide fields" and "Sort" to customize the view.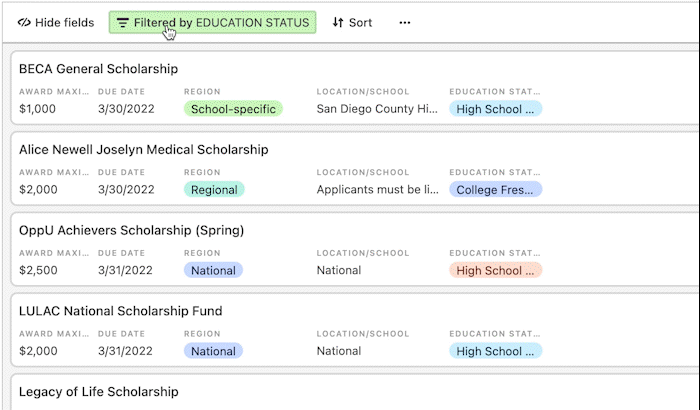 6. Click on a list item to view details and the application link!
Ready to start? Click here to scroll back to the list!
Back to Resources